Monkey see, monkey do
And thus this fox was born.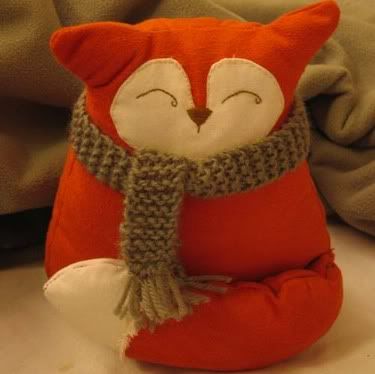 Knitting blog reading inevitably leads to crafting blog reading, which inevitably leads to wanting to manipulate fabric into something cute. I recently stumbled upon the wealth of crafting blogs out there in the web-verse . A few pictures of adorable stuffed animals later, I was a goner. I have always been a sucker for anything cute and soft and after reading through a few blogs, I was determined to make my own stuffie. So, mix together some suede-like pumpkin orange fabric, muslin bought for blocking knitted items, and left over yarn from my branching-out scarf and ta-da, a fox! I am quite happy with how he turned out since this is my first attempt at making a three-dimensional object in fabric and I more or less made up the pattern as I went. Knitting the little scarf was a nice break as well from the exclusive purple cably project I have been trying to devote myself to this week. Now, what to call him?
Another inevitable effect of craft-blog reading is the coveting of Japanese craft books. There are some amazing books available on just about anything…knitting, quilting, embroidery, felting, bag-making, stuff-animal construction… While I can't read a word of Japanese, these books often provide very clear illustrated step-by-step instructions and/or understandable patterns that make them accessible for those illiterate in the language. So yesterday, I finally made the pilgrimage to the
Kinokuniya
bookstore in Japantown. The weather was glorious (Though cold. It actually snowed in some parts of the city for a few minutes yesterday. Snow! In San Francisco! In March!)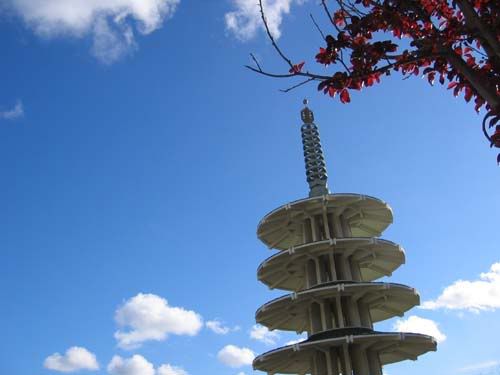 The first half hour or so in the bookstore before the shelves and shelves of craft books was a bit of a sensory overload. I felt like a kid in a candy store for the very first time. The variety was so overwhelming that I didn't know what to look at first. After shuffling through books in a bit of a delirium for the next hour or so, I finally narrowed down my purchases to two. The first I had been eying for a while on other blogs. I am especially enamored with this hedgehog (any cuter and my head might explode).
The second book was more of an impulse buy.
I had been observing the
amigurumi
explosion at a distance. Since I don't know how to crochet, I haven't been too interested. Then I casually flipped through this book and saw these.
Hey, I can learn to crochet...
Here is the rest of the loot from my shopping trip.
I was ecstatic to see that the new DVD of My Neighbor Totoro had finally been released. For the longest time, the only version available was the dubbed one. As this is one of my favorites of Hayao Miyazaki's films, I had to buy the DVD then and there. The rest were more impulse purchases…though I really did need a new eraser and if said eraser happens to have
two adorable pigs
that say "boo" on them, all the better. (And I dare you to walk past the blue-eyed white bunny/dog stuffie without feeling at least a bit of temptation to take it home with you…)
All in all, this was a wonderful break after a hectic week. Hopefully, the coming week will be more normal with more knitting and blogging time...and more sleep.