Hodgepodge
Where has March gone?
The only time I have had of late for knitting and the like have been brief snatches while I rush from one thing to another. In the last few days, the progress on my on-going projects has been scatter-shot…a few rows here on Pomatomous, a few stitches there on the spotted knitting pouch... However, there is nothing like a sick day to make one just stop. So, there is a silver lining after all in being held hostage by a stomach bug. I actually managed to finally finish something today.
The first finished item has to do with Mom's birthday this weekend, which I will be heading home to celebrate. While I didn't manage to finish Veste Everest in time for her birthday, I did make her a
necklace
and now I have the perfect pouch to put it in.
I'm going to change topics and rave briefly about some books. The pattern for the above pouch is from the wonderful
Omiyage
by
Kumiko Sudo
. I have only recently discovered her books and when I finally got my hands on two of them, I was just amazed. Kumiko Sude is a quilter but aside from her books on that subject, she has published a few on hand-sewn Japanese gifts. These are much of the same types of projects that I find so enthralling in Japanese craft books except that the books, and thus the instructions, are in English. No creative interpretation needed! The directions are clear and well-written, the photographs are beautiful, and the projects are terrific. What more could you ask for in a book? I bought both
Omiyage
and
Kokoro no Te
and have to say that I like the former slightly better. The projects in
Omiyage
range from a variety of fun fabric pouches in various shapes (cherry blossoms, birds, etc) to adorable pin cushions to handy sewing boxes. The projects in
Kokoro no Te
are more focused on pins and other small wearable decorative objects but there are still a few patterns for sewing supplies and intriguingly, one for doll-size kimonos. Both books also have patterns for beautiful temari balls that I look forward to trying. In any case, I think these books are a must have if you enjoying small hand-sewn projects.
Okay, here ends effusive book praise. Ahem.
Back to finished project, the second item is the spotted knitting bag. Ta da!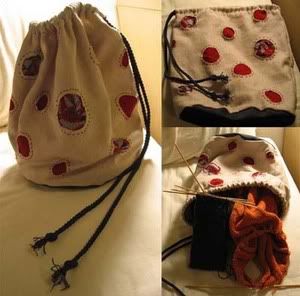 I really like the way the bag turned out (perfect size to hold at least two projects), though I am not sure if I want to make the spotted purse with the same fabrics. I think the linen is probably better suited to the
bird purse
. Perhaps a heavy cotton or corduroy for the spotted bag?
Anyway, two mini-projects done! So one more thing to add to this mixed bag of a post: a peek at what will be here later today.
Some of the stash in its natural habitat. Shh…they startle easily.