Falling
During a few days of frantic cleaning at the end of last year, I finally took full stock of the amount of fiber tucked away in every available nook and cranny of my apartment. It was enough to shock me into imposing a little buying freeze. For a few weeks, I felt absolutely no covetousness towards any yarn or roving. I passed my days thinking about the many projects waiting in the stash with fond anticipation. I was content. Happy even. And certainly firm in my no-buying resolve. Not even the glittering array of end-of-the-year project montages all over blogland could move me in the slightest to lust after new yarns. No, this was the new rational, prudent, stash-busting me.
And then, with no warning at all (there never is, is there?), I fell off the wagon.
The culprit for my lapse?
The Loopy Ewe
, or more specifically, their amazing selection of sock yarns.
How could one's cursor not drift towards the purchase button when confronted with loveliness like this?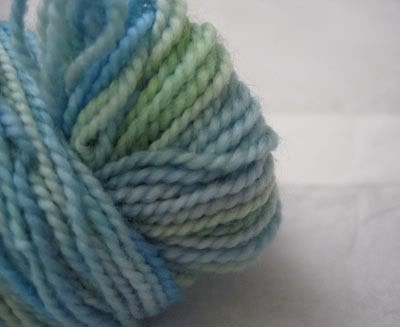 Or this?
Since both these yarns (Claudia Hand Painted and
Sweet Georgia
, respectively) in those specific colorways (Sea Dreams and the delightfully named Willow, à la Buffy, n.b. SG also dyes Slayer and Angel colorways…very charming, even though
Angel is lame and his hair goes straight up and
…ahem, where was I?) were unavailable ones I spotted a few months earlier and briefly obsessed over, I really had no chance in resisting. A few hazy minutes of clicking later, my buying freeze was no more.
But yarn doesn't really count as stash if you cast on with it right away. Right?