Just another excitement filled evening...
here at
Casa
Knit's Tale
Oh the fun.
Some comfort, throw-together baking (and subsequent eating) helps a great deal though, especially when crunching numbers that are directly related to the size of the imminent drop in one's bank balance.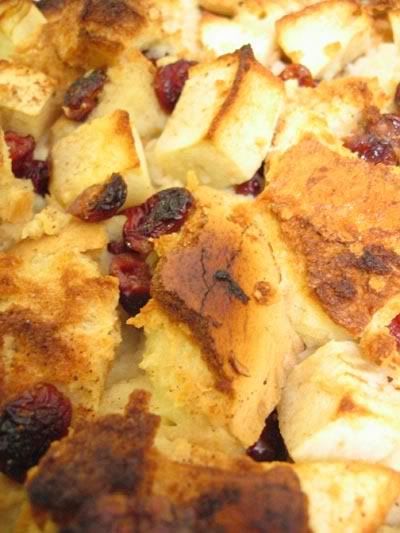 Apple cranberry bread pudding. Yum!
In case you want to make your own:
Ingredients:
Approx. 12oz French bread, or whatever bread you have lying around the house, cut into 1-2 inch cubes
1 ½ cups milk
1 cup heavy cream
¼ cup sweet white wine (optional, can replace with milk or cream), plus a few tablespoons for soaking cranberries
2/3 cup sugar (plus some for sprinkling)
3 eggs
1/3 cup dried cranberries
2-3 small crisp apples (e.g. Fuji), diced
½ teaspoon nutmeg (optional)
Preheat oven to 375 degrees. Butter 9x9 Pyrex baking dish. Soak dried cranberries in 6 tablespoons of wine. Whisk eggs, the 2/3 cup sugar, the ¼ cup of wine, milk, and heavy cream together until well blended. Pour over bread. Add cranberries and apples. Gently mix (go ahead, use your hands!) to ensure that all the bread pieces come into contact with the liquid to optimize uptake and that the fruit is more or less evenly distributed throughout. Pour mixture into buttered baking dish. Lightly sprinkle the top with some sugar and nutmeg. Pop into the oven for approximately 50 to 60 minutes or until a toothpick inserted in the center comes out clean. (You can cover the pan with tin foil if you want to keep the top from getting too crisp and brown)
Cut into squares or just spoon out while still piping hot and enjoy!