Post of gratuitous cuteness, now with hat and mittens!
(Or, spicing up ordinary FO's)
Look what just sprouted!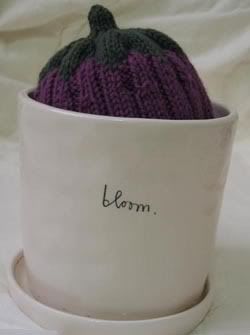 Hello.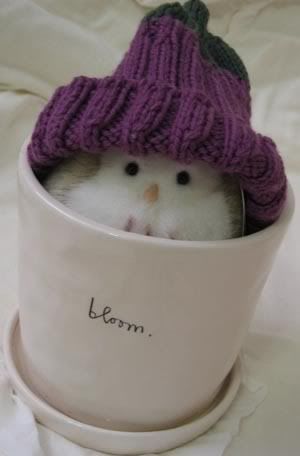 More hamming for the camera
Uh oh, he's a wee bit attached.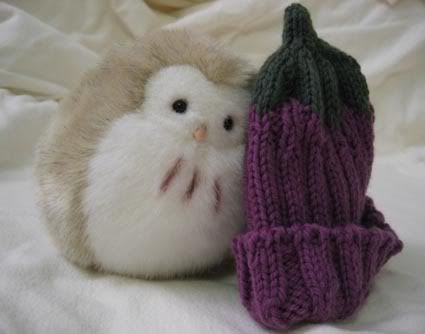 Yes indeed, I'm easily amused, but he's just the perfect size and shape to model a toddler's hat. How could I resist? Just to show that I don't spend all my time making posed shots with stuffed animals, here are the mittens,
sans
owl.
Hat and mittens for I's one-year-old niece, in plenty of time for next winter!
FO details:

Pattern
Hat – generic ribbed hat to leaves, Ann Norling kid's fruit cap for leaves and stem
Mittens – improvised with help from The Knitter's Handy Book of Patterns, by Ann Budd; freehand embroidery with green yarn

Yarn
Knit Picks Swish Superwash, MC wisteria, CC dublin, approximately 1.5 skein MC for hat and mittens, teeny amount of CC

Needles
Brittany DPNs US 6/4.0mm

Thoughts
Teeny tiny thumbs – not so much fun to knit on long DPNs, but otherwise, both hat and mittens made for satisfying small projects. I'm rather impressed at how well the KP Swish stood up to ripping and reknitting despite how soft the yarn feels. No pills or loose fibers after much wrangling of the yarn. It is a tad splitty so I had some trouble with catching the odd strand out of place but if you pay attention, it's not so bad at all, especially given the low cost of the yarn.