Pomatomus!
My first pair of socks, finished at long last!
O warm, wooly happiness!
The completion of this second sock was thankfully nothing like the emotional roller coaster ride that was the
finishing
of its sibling. Few curses were uttered during the kitchener process (thanks to the tutorial
here
) and no needles were harmed during the ensuing two-socked celebratory dancing.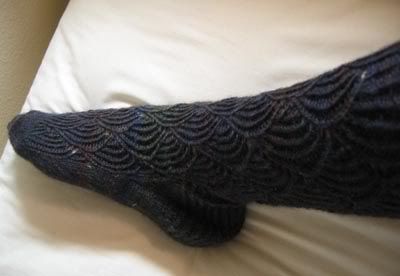 Here are the stats:
Pattern:
Pomatomus
Source:
Knitty
Yarn: Trekking XXL colorway 66; Fortissima Socka reinforcement wool in 1088 at the heels
Needles: Brittany DPN US 2/2.75mm
The beauty and brilliance of this pattern has already been much gushed over in the knitting blogosphere. Truly, 'tis a wonderful pattern.