Presenting....
still focusing…oh, $%#$@&* auto-timer…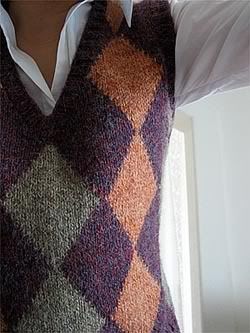 wait, ready…er…okay!
Presenting


C

y

d

!




My very second knitted top!

(Obligatory posed side view)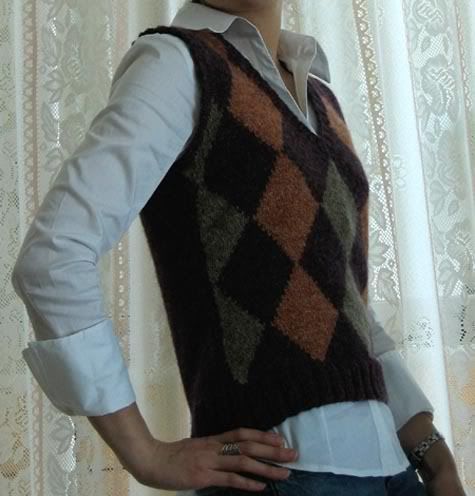 What a difference a year of knitting experience makes! When I finished my
first sweater
, binding off loosely and proper seaming were not concepts that I was well acquainted with. So, I ended up with edgings of limited stretchiness and gaping joins between the front and back, all of which relegated the sweater (excited though I was about it) to languish in refinishing limbo after only one wearing. This time it was all different! Knitting a pair of
argyle socks
put those necessary skills of intarsia and mattress stitch into my tool kit. Add that to a year's worth of accumulated knitting knowledge from reading patterns and knitting books and blogs
et voilà
–– the confidence to modify a pattern and the ability to make it turn out almost as I had imagined it. Cyd is still far from being entirely free of errors and regrets, mind you, but it's much better than the messy "home-made" look of the last sweater. And have I mentioned how warm and comfortable and wonderful this slip-over is? I ❤ fuzzy green and orange diamonds.
Specs and Notes:
Pattern: Cyd, from Jaeger Booklet JB31
Yarn: Jaeger Luxury Tweed 65% merino lambswool, 35% alpaca (sadly discontinued) MC 836, CC 823, 822
Thoughts on Luxury Tweed: Oddly, there is quite a difference in the feel of the yarn between the different colorways. The main color was much rougher with less of a soft halo than either of the contrast colors. The yarn, at least the main color, is also rather fragile. A quick tug, as during mattress stitching (ask me how I know this) easily snaps it in two.
Needles: US4/3.5mm needles for body. US2/3mm needles used for ribs at neck and armholes
Modifications:
A misreading of the pattern lead me to knit a gauge swatch with US 4 needles instead of the
4mm
needles called for but my swatch was surprisingly on gauge. Given how loose the fabric was already on the US4/3.5mm needles (and I'm hardly a loose knitter), I shudder to think how it might have looked knitted with the larger needles. Because I used a smaller needle for the body, I also went down to a 2mm needle to knit the edging on the neck and armholes instead of the 3.25 mm needles called for. For the slip-over body, I deepened the V of the neck such that it came exactly to the top of the second green diamond rather than cut into a third diamond as in the pattern. I also reduced the total number of stitches around the body and added waist-shaping to keep the slip-over from being too sack-like since the smallest size was still a bit too big for me.
Now for those of you who've been kind enough to slog through all my rambling above, here's a peek of the intarsia reverse side.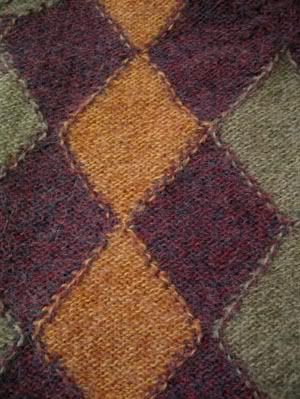 Oh ❤...