Une petite souris
Look who showed up on my doorstep yesterday!
She has flown all the way from
Belgium
(where she lived with her talented creator and a large delightful family filled with colorful characters) to come stay with me! The trip left the little dear a bit shaken up, though. The security officials must have been convinced that her travel conveyance, instead of holding a wee little mouse, harbored instead those mysteriously missing W*M*Ds. So, they weren't terribly nice. They ripped open the package and tore into the box and roughed her up a bit before shoving everything back.
Fortunately, the damage was minimal. After a bit of a rest on a tuffet...
and some TLC with a little glue to put her tail back on, she is feel much better. In fact, she's already helping to water my neglected plants and making friends with her new neighbors!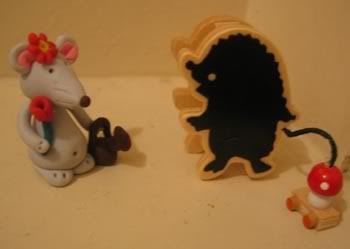 Merci beaucoup, chère Geraldine, pour m'as donné une souris beaucoup mignon! Bizous!