And then there were two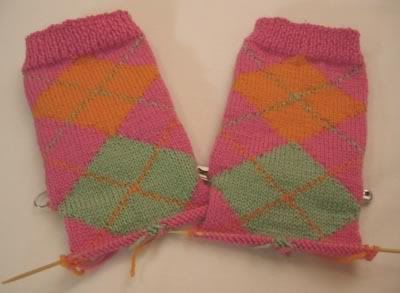 On to the heels!
But first, a request for some advice. Since I was absolutely unsuccessful in my search for matching pink reinforcement thread (unless I want to resort to using elastic), the heels and toes will be composed solely of Dale Baby Ull as the rest of the sock. So, asks the worry-prone sock-knitting and hand-kitted sock wearing novice, can any sock knitters out there comment on the durability of non-reinforced socks? These are knit on US 0's so the fabric is relatively dense but I'm concerned about the nylon-less fiber content. Also, does anyone have any recommendations for a well-wearing stitch pattern for the heel flap (e.g. ribbed vs. K1, Sl1)?
Many thanks in advance for any and all purls of wisdom. (Wince...sorry, just couldn't resist the pun).