A most pleasant surprise
Today started off as a hectic mess. A knitting night with a friend on Friday ran quite late. When I finally came home, I was so hopped up on caffeine and sugar and laughter that there was no way I could get to sleep. So, I knitted. And knitted and knitted – until faint bird chirps began filtering their way into my apartment. Needless to say, I slept quite late into the day. That, of course, has the unfortunate consequence of squashing everything I needed to get done today into a much, much smaller window of time. Just as I was running out the door, much frazzled and stressed, I found this from
Phillipa
in my mailbox and suddenly, my day seemed much better.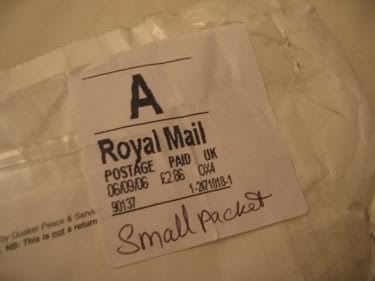 I didn't have a chance to open it right then but remembering that I had a special package waiting for me made all the errands I was running seem much less of a chore.
When I finally opened the package, I was greeted by a soothing perfume. It smelled like lavender and clothes dried in the sun and general coziness. Here is what I found inside the envelope:
An enormous cut of whimsical Liberty fabric printed with yarn and knitting (I have been desperately coveting Liberty fabric ever since I knew of its existence. Now I finally have some!). A bar of delicious smelling candy intriguingly called Kendal Mint Cake that was a great favorite of Sir Edmund Hillary's famed Mt. Everest expedition. A lovely post card of some spires (a spire) of Oxford. And the wonderful goat milk soap that suffused everything with its perfume.
I'm quite over the moon with everything. I can't stop fingering the delightful fabric (soft as well as adorable) and sniffing at the soap. It's all so generous a thank you for a little
felt hamster
.
Thank you, Phillipa, for such a wonderful and unexpected gift!