Stockinetting away
Many thanks for all the kind words about my argyle socks! Thank you too for the advice on the sock heel. To tell you the truth, I may have been dithering over the heel more because of my dread of facing the one part of the argyle sock construction that remained stubbornly opaque to me despite much brain-wracking: the knitting of the gusset and the transition to the foot. At some point last week, I finally took the reinforcement thread-less plunge and made my K1, Sl1 heel. With that out of the way, I couldn't put off the gusset any longer. Happily, everything clicked as soon as I started working at it. A few hours of knitting decreases and some mattress stitch later, I had myself an ordinary sock-in-knitting on the DPNs.
It's all St St from here on out. Should be quick except that rows on US 0's accrue length oh-so-slowly and there's been some competition for my attention in knit 1 row, purl 1 row. You see, my sudden infatuation with argyle patterns didn't just compel me to do these socks, it also induced me to start working on this vest...slip-over...diamond-covered thing.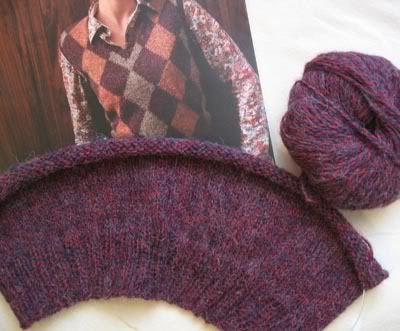 This is Cyd from the Jaeger booklet JB31. Though I have never in my life felt any interest in wearing a vest, this one caught my eye. After seeing it, I was rather surprised to find that I suddenly did want to wear a vest, or rather, wanted to wear
exactly
that vest, in
exactly
those colors. But, I had promised myself that there would be no yarn purchasing this month. So, I was the very picture of restraint. I told myself the project could wait for a few months while I knit up some of the stash. I told myself that the project wasn't going anywhere and would still be there in a few months. I told myself many calm rationalizations and I held firm and all was well until a quick Google search informed me that the Jaeger Luxury Tweed the vest was knit in had been discontinued. Once the word "discontinued" worked its way into my brain, a sense of franticness compulsiveness seized me. Before I knew it, I had hunted down the yarn and obtained a copy of the pattern. And here I am, knitting away on the vest back.
When I was working on the intarsia of the second argyle socks, I kept feeling a longing to do some simple, mindless knitting. No changing of colors, no fancy stitch work, just straight knit, turn, purl, turn
ad infinitum
. Well, I suppose my wish has been granted, in plenitude. Perhaps by the end of the week, I'll be itching to start
these
. (Not that I wasn't already tempted...)