Temporarily hindered
After three year of steady service through multiple little knocks and bangs and two falls, my little laptop is finally giving up the ghost. Poor Occum the laptop seemed to recover itself over the weekend after some rather frightening glitches last week (have you backed up your computer files lately?) but today, after I regained enough faith in it to try posting, the problems have come back. So, this post is being written on the little machine's last gasp. Tomorrow, Occum will be going to the shop for some new innards. Of course, this sadly means no laptop and no posting for the next few days (though, thank goodness for work computers, there will still be blog reading). In the mean time, I hope my new stash enhancement provides you with some yummy eye candy.
Really, there's no better salve for the wearied soul (or for the soul just feeling meh) than the heady scent of wool, oh so faintly laced with tangy notes of vinegar. Just a passing whiff of this smell brings the words "beautiful" and "hand-painted" and "wool" into the forefront of my mind. It's even better when that whiff is accompanied by the sight of this: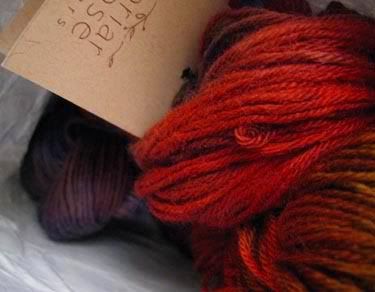 I splurged a little two weeks ago at
Briar Rose Fibers
. I've been in love with their hand-dyed yarns ever since I encountered it at Rhinebeck (when a skein of Sea Pearl just had to come home with me). The wonderful color palette of the yarns, where deep plums shade into blues and olives and rich reds transition into a brilliant orange, has caused me to spend more time than I would like to admit browsing again and again through the online shop. But, let's not dwell on my obsessive yarn-stalking behaviors... Here are the delicious smelling skeins (and for the second photo, please imagine a vibrant red in place of the insipid, washed out vermillion that my computer insisted on showing in direct conflit to what appears on the camera).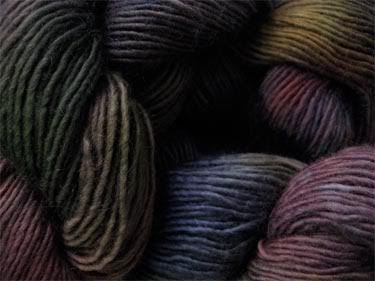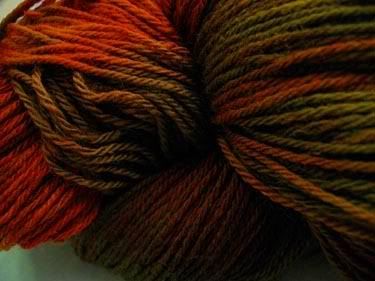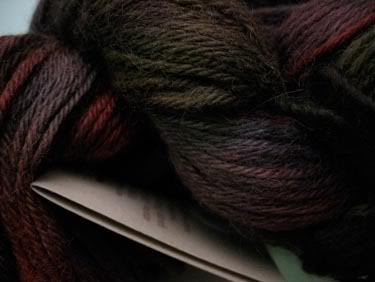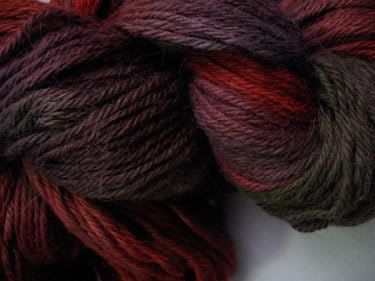 Respectively from the top, Collette (wool/mohair), Grandma's Blessings (superwash wool), and Earthsong (wool/alpaca), the latter skein being in two pictures because the colors are just so pretty. It's all I can do keeping myself from throw all the current projects in the corner and casting on these skeins...