Playing Catch-up, again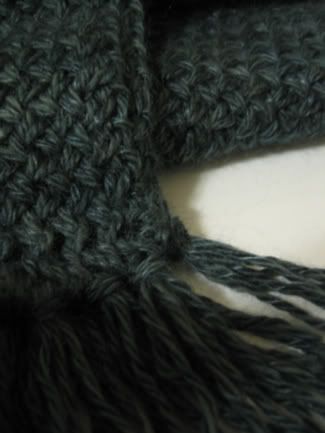 Remember all that
criss-crossing, chest-thwacking knitting
I did a whinge about months ago? Well, it's finally done! Done
and
gifted!
Here's I. kindly modeling the scarf for me before I hurried into my suitcase and we set off for our whirlwind two-week trip to visit relatives (including the intended recipient) overseas. Happily, my uncle the scarf-recipient was quite delighted with my gift. Yarn, color, stitch pattern – it all went over extremely well. Really, nothing beats the warm fuzzies of having a knitted gift well appreciated!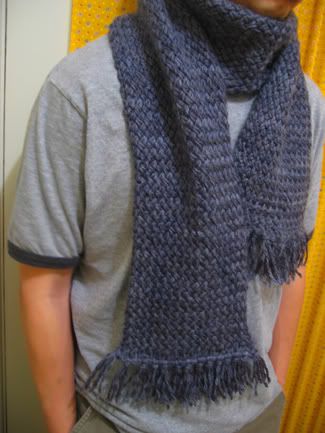 Specs:
Yarn:
Brooks Farm Riata (48% wool, 36% mohair, 16% silk)

Needles:
US 10.5/ 6.5mm

Pattern:
Tubular cast on x number of stitches, knit in Barbara Walker's basket weave stitch (book 2) to desired length, do a tight bind-off to avoid flaring, attach fringe.

Comments:
I love, love this yarn. I really can't enthuse enough about it. Once knit up, the end product is soft as anything and amazingly warm. The yarn is composed of three separate strands with each one a different fiber content. The strand containing silk provides a subtle gloss and texture to the knitted fabric surface. Furthermore, since the skeins are hand-dyed and each fiber takes on dye differently, there are subtle shade gradations across the skein that adds to the depth of the knitted fabric. That said, I think the yarn probably works best in stitch patterns where there is a common overall texture rather than one in which you have a single motif you want to have "pop-out" of a plain background as the color shifts may camouflage the motif. The mohair content in the yarn does mean that there is a bit of shedding but otherwise, I can't find a single fault. (And even less so when a skein of 375 yards sells for a mere $34 dollars) You can find the variegated-dyed skeins of Riata at the Brooks Farm website but the solid color ones like this teal seem only available at fiber festivals. I bought this skein at Rhinebeck last year and have been kicking myself ever since for not buying two, especially when this particular teal I choose seems to have been irreproducible, not to mention impossible to photograph accurately (the top photo is closer to the real shade but still not quite right). Since I missed out on Rhinebeck this year…well, there's always Maryland Wool in May!