Swallowtail, the gateway drug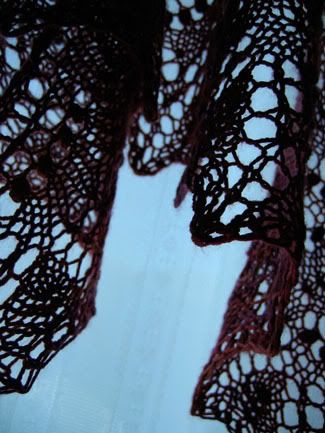 Much virtual ink has been spilled on the little matter of those triangular or rectangular knitted items containing deliberately placed holes. Multitudes of blog posts devote themselves to expounding on the agony and ecstasy of knitting lace shawls. The excitement of embarking on a joyfully frivolous project, the tedium of finding oneself in the middle of knitting a single repeat in increasing iterations twenty times, the awe at the beauty of the finished product, the pain in discovering an error two rows of hundreds of stitches back, the delight of the magical transformation that comes from the careful application of some water and pins…lace knitting seems unmatched in the depth and range of emotions it can elicit from both the knitter and the spectators. I used to be puzzled by the obsession over lace shawls, the way those holey pieces of knitting held sway over a large percentage of the knitting population who made one after another. Sure, they were pretty, but how could these elaborate and impractical labor of love's be so addictive? Now that I've finished my first shawl, I think I finally get it.
There's no concrete reason, nothing you can point to and say "this is why." All I know is an attendant joy as I K2tog, YO, and ssk'ed my way across the rows, feeling happiness at knitting with the only goal of creating something beautiful. And all I know is that little thrill when I unpinned the shawl from blocking and admired its newly gained drape in the sunlight.
Yes, I think I understand what the fuss is all about now. And I think I'm addicted.
To sleep, perchance to dream…of knitting more lace.
The technical details:
Pattern: Swallowtail Shawl, Evelyn A. Clark Interweave Knits Fall 2006
Yarn: 1 skein Handmaiden Seasilk, Sangria
Needles: US4/3.5mm
Blocked dimensions: 55 x 24 inches