Wooling in the New Year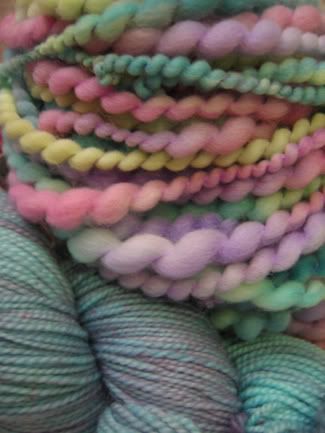 Funky Carolina hand-spun and Sundara sock yarn…
What better way to start off the New Year than with a great big whack of wooly goodness?
These were all the beautifully color coordinated goodies that arrived in a jam-packed box of raffle prizes from the wonderful fundraiser that is
Spin Out
(a pretty magnet and SOAK samples and Yarnitini sock yarn and Grafton Fiber needles to boot). Oh what a glorious start to the year (and knock on wood that I didn't just use up a year's worth of luck)! Thanks,
Cara
and prize donators!
I'm so far behind on trying to catch up on blogging that I'm going to leap frog it all and start in
medias res
. So, look for some chatter about a new FO and some pretty, newly spun yarn here soon. And, if I manage to stick with my New Year resolution, there may even be some reviving of long forgotten WIPs (Bunny Lace, I'm looking at you…).
Hope the year is off to a happy start for you too!