Why it's probably better to sleep on that brilliant idea you have in the wee hours
When it comes to knitting, I'm nothing if not governed by sudden whims and fancies. Just like my tendencies towards
sudden obsessions
, I'm equally prone to sudden covetousness regarding finished objects. A few pretty FO pictures
et voilà
, I must absolutely replicate that same exact thing on my needles right then and there. Of course, patterns and yarn purchases frequently ensue. Anyway, so there I was innocently browsing through
Ravelry
during a bout of insomnia the other night when I was seized with an absolute need to knit
Foliage
.
Out of my own hand-spun.
I don't even remember what particular combination of FO pictures and forum conversations lead to the genesis of this
need
but there it was, firing at maximal speed through all my late-night twingy neurons to occupy my entire being. Never mind that I possessed neither bulky handspun nor solid roving that could be turned into bulky handspun. No, my mind raved, don't let that little hurtle stop you! The hat would still look wonderful in a green and teal blend! (Why yes, my mind in the wee hours speaks in exclamatory statement. Doesn't yours?) A green and teal blend that I must make right then and there! Right. Somehow my 3am brain thought that it would be a brilliant to use part of the December offering from the Spunky Eclectic fiber club, a roving space-dyed in bright lime-green and teal (and red that I had already separated and spun up). I would draft from both the green and teal portions at the same time as I spun and it will be beautiful!
So, with this vision of beautiful bluish-green blended yarn burning in my mind, I snatch up my spindle, made a lousy attempt at blending the two colors of roving together, and proceeded to make some of the
ugliest
yarn I have ever seen.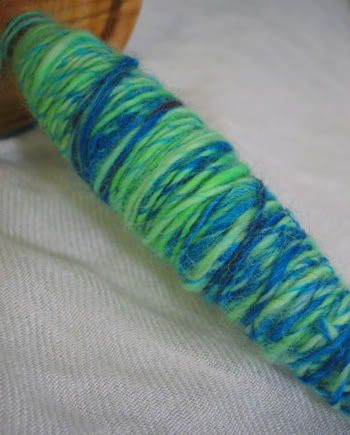 Yeah.
The wrongness of the yarn…the uneven thick and thinness, the strange marled looked, the odd transitions from "shade" to "shade," oh just the fugliness of it all was enough to convince even my pigheaded manic 3am visionary brain that it was not working and was never, ever going to work. I mean who in their right mind would wear something knit out of this on their head? Deflated, I shoved the sad little spindle-full into a bag and called it a night.
But I still really wanted a Foliage. So, I went stash-diving and came up with this.
One buttery soft skein of natural-dyed merino in a color called Cognac procured in the early days of my knitting obsession from
Handpainted Yarn
, those folks related to Malabrigo.
I'm very much smitten with the subtle variations in the colors. They shift from a pale rosy brown to faint olive green.
Thousands times better than using teal-green marled handspun.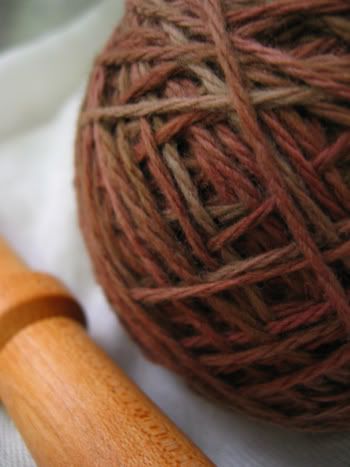 Now that I have the yarn all wound up though, the winds of whimsy have shifted yet again. I don't think I need a Foliage after all. No, what I really, really could do with is a little
Karma
.
(And I really have no idea what to do with my fugly handspun...)