Warm Head = Good. Warm Head + Warm Ears = Rather Essential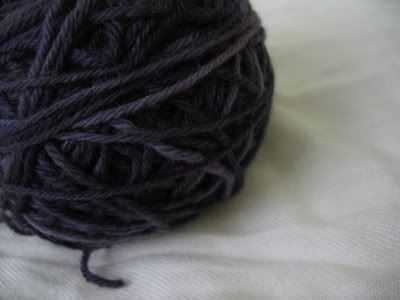 I knit another hat for I. (see the tale of his 1st hat, the What Hat,
here
). Why? Well, his first hat was only long enough to touch the tips of his ears. Not a crucial detail, I thought, when I made the hat, being a mild-climate and non-hat-wearing person. After a recent trip to Boston during a snowstorm though, I stand corrected. A mere 10 minute walk outside while wearing I.'s non-ear covering hat was enough to convince me that indeed, the ear-covering part is a
very
important detail. Especially when wind is shrieking by and giant flakes of snow are buffeting your head. I was so convinced, in fact, that I bought yarn in the city right then and there to start knitting. So here's the new and improved What Hat, knit wider and longer than the previous. I did a similar cable pattern (the science dork in me is still tickled by the fact that they look like chromosomes) with some adjustments due to the increased stitch count.
Project Specs:

Yarn
Less than 1 skein of Araucania Nature Wool, color 56 (dark blue-tinted charcoal)

Needles
US7/4.5mm DPN

Pattern
My own, using the same pattern I outlined here with the exception of casting on 108 stitches instead of 96.

Thoughts
I really enjoyed knitting with the Nature Wool. It's a sturdy, substantial 3-ply aran-weight with wonderful yardage (240 yards per skein!) that feels like it would be an excellent workhorse yarn (good thing since I have some in the stash earmarked for a sweater). Compared to Cascade 220, my usual favorite workhorse yarn, it's slightly thicker, more rounded, and feels less liable to pill. However, this is definitely a yarn that I would only buy in person since the evenness of color (it's kettle dyed for a tonal variegation) varies vastly from skein to skein. In fact, there are no dye lots for the skeins since they vary so much. On the whole, I'm very happy with the hat. I love the color and the look of the shifting shades of bluish charcoal. And, it makes the ears happy!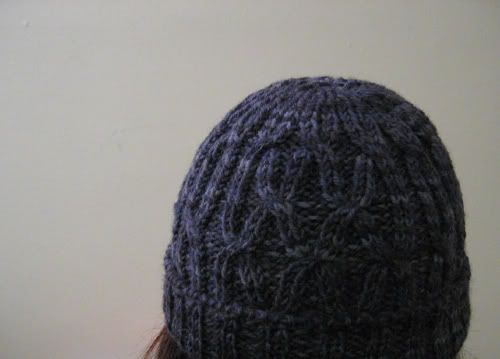 (Please forgive this peculiar self-portrait of hat on head...proper camera angling to capture an image of my own head is a skill I have not yet mastered.)