Who says that obsessions can't be pretty?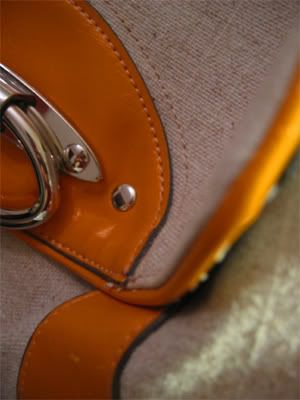 I've recently become quite enamored with the color yellow.
Quite, quite enamored.
It all started with one pretty handbag that caught my eye and suddenly, I've found myself in a yellow period. A quick succession of yellow possessions have found their way to me -- a sunny pair of sandals, a summary top, a breezy skirt (with pockets!)...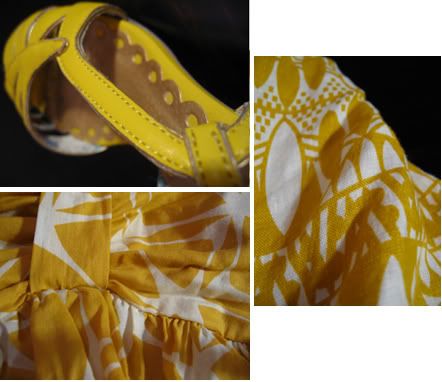 ...my new favorite robot…(okay, so he probably would have made it even if he wasn't yellow -- you try and resist those eyes…).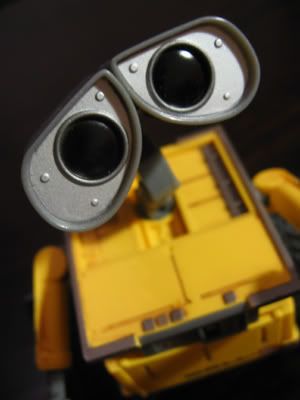 With my newfound love for yellow, even an avowed yarn diet (yes, again) couldn't stand in the way when I spotted three plump skeins of squishy merino in the most perfect shade of ambery yellow buried in the sale bin at the lys.
But what to do with 300 yards of an impulse buy? Having just returned to the fold of the blogging and Raveling legions, I of course consulted the internets. A few clicks later and I, like the 525 others before me, decided that my wardrobe was in sore need of a
Gretel
.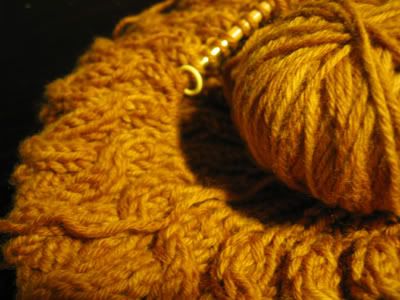 The round, multiply yarn (Classic Elite Waterlily) was an absolute joy to knit with. Unlike all the other types of yarn I done cables in without using a cable needle, the stitches in Waterlily held firm while I maneuvered them around for the various C4F's and C4B's. Not having to do the ungainly stitch grab everytime a stitch sat needle-free during the cabling process made for much faster knitting. Some backtracking aside due to my belated realizations that A) yes, the hundreds of Ravelers were indeed correct that the regular size gives just the right amount of slouch, and B) I didn't have enough yarn to make the slouchy version anyway, the hat virtually flew off the needles...at least by my slow, easily distracted knitting standards.
Voila the cabled pancake view...
And the woolly-hat-modeled-at-the-height-of-summer view.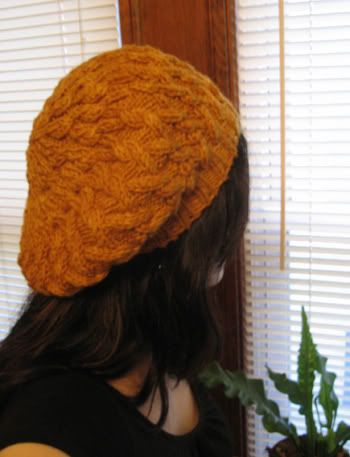 Details

Pattern: Gretel, by Ysolda (Ravel it)
Yarn: 3 skeins of Classic Elite Waterlily, color 1943 (Goldenrod)
Needles: US8/5mm
Size: Regular
Great pattern, great yarn, and highly obsession-fulfilling. What more could a knitter ask for?