I may not have a swift but I do have doorknobs
Yes, doorknobs.
Necessity is really the mother of invention. Well, inventions new to me at least.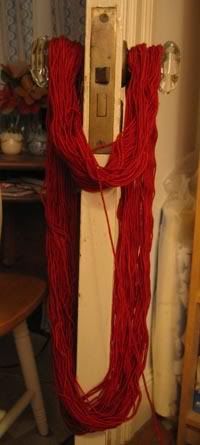 In a pinch, these doorknobs worked as well for me as a pair of extra arms (when you take into account the advantage of the doorknobs being inanimate objects and thus possessing infinite patience) or the back of a chair. Fifteen minutes and some minor untangling later, I had myself one perfect ball of yarn.
I don't have too many more days before I leave to tackle the things on my household to-do list. And yet, as soon as I run through my mental list to note that it's all not checked off, my brain tacks up a "Gone Knitting" sign and I find myself playing with fiber. Call it stress-induced procrastination. Rather than putting clothes in the wash or making packing lists, I've been pondering what knitting projects to bring with me for the long, long plane ride (6am to 5pm…oh the joys of a non-direct cross-country flight). After all, choosing knitting projects is a complex endeavor. Most importantly, there should be at least two projects to minimize stitch pattern fatigue. Said projects must also be interesting enough to block out the frantically restless rat-in-a-cage feeling elicited by the tiny space allotted to one on the airplane. And yet, these projects can't be so complex as require many manipulations that would be difficult in such a small space. So, given that Cyd comes with an entourage of no less than eight ball of mohair-containing yarn, all the strands of which love to tangle with one another, it won't be making it into the carry-on. The bubble gum argyle sock 2, on the other hand, does manage to make the cut. But what other project bring along?
Well, you can probably guess from the skein-winding going on that I'm starting something new for the trip. With these. (What about the other WIPs? What WIPs?)
I wish I could capture reds accurately with my camera. Imagine the most perfect autumnal shade of rusty red occasionally lightening to a gold like fall leaves. I spotted this particular mostly solid shade of Koigu and could not leave the store without a few skeins. I even went back and bought more once I decided I wanted to show off the knitted item rather than hide it in my shoes as socks. Of course, in a perfect world, I would have sweaters, scarves, and socks all of this yarn, but in a perfect world, money also grows on trees and I float about all day in my Victorian mansion doing nothing more taxing than eating chocolate, sipping champagne, and knitting (the former two having no physical consequences, of course, being in a perfect world and all). Since I have yet to find that perfect world, I have to devote my four precious skeins to
one
perfect project. After much dithering, I finally settled on doing a smaller version of
Madli's Shawl
, designed by the sock goddess herself. A fall scarf in fall colors. Watch this space for nupps.