S•P•I•N
Spin
(
n
) -- the angular momentum intrinsic to a body, as associated with the motion of that body around its own center of mass*.
Merely add some fiber to that intrinsic motion and suddenly, you can create absolute joy. Witness here:
My first skein of handspun! Yes, it's unevenly plied and alternately overspun and underspun but I love, love, love it -- all 41 purplish-pink heathered yards of it.
It's amazing how much finally figuring out how to properly draft will do for spinning speed and quality. While it used to take ages for me to spin a few handfuls of fibers into ugly, thick-and-thin yarn, being able to draft better allowed me to go through the rest of my two ounces of Coopworth in virtually no time at all with
much
better results. To make the final yarn in the skein, I plied my first spindle-full of singles with my second spindle-full (of which there are still a number of yards left). Since the singles from the first spindle-full were much more uneven and thick overall than that of the second, the resulting two-ply ranges from a light DK weight to a fingerling weight in terms of thickness.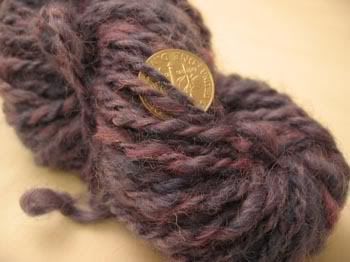 In case you care for more details...
Fiber: Indigo-Cochineal natural dyed Coopworth by Stefania
Weight: <2 ounces
Yardage: approx. 41 yds
And so begins yet another happy obsession.
*Oh what would we do without
Wikipedia
?