Fickle is the urge to craft
Now that I have on-going knitting projects aplenty, including a few with deadlines, what did I feel compelled to do today but drop by the local bead shop. Makes perfect sense, no? Without fail, crafting not only brings out the worse of my packrat hoarding tendencies, but that hidden attention-deficit streak as well. A few weeks immersed in wool and suddenly the glitter of the jewelry dangling in the bead shop window is like a siren call. Not even the new issue of Interweave Knits could pull me back from taking a little side path off knitting (though Eunny Jang's amazing Fair Isle
Venezia pullover
came close, until I thought about steeks and my already lengthy project list, that is). Good thing jewelry making, the amateur kind that I do anyway, is almost always just a night's work of instant gratification.
With the very non-instant gratification of gift lace scarf knitting ahead of me, a new bauble to wear certainly goes a long way towards tempering and focusing my urge to make, make, make.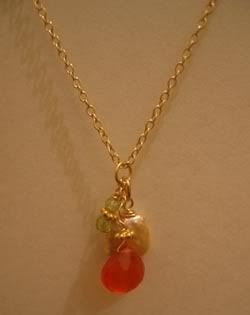 Yes, even with winter rapidly approaching, I appear to be still obsessed with autumnal colors.